I've always been fascinated by the concept of controlling my dreams. The idea of being able to shape my own reality while I sleep is both thrilling and intriguing. However, despite my best efforts, I've never been able to fully control my dreams.
This got me thinking, why can't we control our dreams? After conducting some research, I discovered that there is actually a scientific explanation for why we can't fully control our dreams. It turns out that our subconscious mind plays a significant role in our dreaming experience, and it's not always easy to override its influence.
In this article, I'll explore the science of dreaming, the limitations of conscious control, and techniques for improving dream control. So, let's dive in and uncover the mysteries of the dream world!
Key Takeaways
The subconscious mind plays a significant role in dream creation, making it difficult for the conscious mind to fully control dreams.
Dreaming occurs during the REM stage of sleep, during which the brain's prefrontal cortex becomes less active, allowing the subconscious mind to take over.
Dreaming has numerous benefits for overall well-being, including emotional processing, creativity enhancement, memory consolidation, and problem-solving.
Techniques such as dream journaling, reality testing, and meditation can help improve dream control, while sleep disorders and poor sleep hygiene can negatively impact dream quality.
Understanding the Science of Dreaming
Can't seem to control those wild dreams? Let's dive into the science behind dreaming.
Dreaming is a complex process that occurs during the REM (Rapid Eye Movement) stage of sleep. It is during this stage that our brains become highly active, and we enter into a state of unconsciousness.
Contrary to popular belief, dreaming is not just a random sequence of events taking place in our brain. Instead, it is a well-structured process, and every dream we have is a result of our brain's attempt to make sense of our experiences, emotions, and thoughts.
During REM sleep, the brain's prefrontal cortex, which is responsible for decision-making and logical thinking, becomes less active, while the amygdala, which regulates emotions and memories, becomes more active. This explains why our dreams are often emotional, illogical, and sometimes even bizarre.
However, the reason why we cannot control our dreams is that the prefrontal cortex, which is responsible for controlling our behavior and actions, is not fully active during REM sleep. This means that we cannot use our conscious mind to influence the dream's content or direction. Instead, our subconscious takes over, and we experience whatever our brain decides to show us.
With that being said, let's explore the role of the subconscious in more detail.
The Role of the Subconscious
Isn't it fascinating how our subconscious can create such vivid and unpredictable dreamscapes? As much as we'd like to control our dreams, it seems that our subconscious mind has a mind of its own. Here are some reasons why:
The subconscious is in charge of processing emotions and memories. It stores these experiences and uses them as fodder for dreams. We may not even be aware of these emotions and memories, but they can still influence our dreams.

The subconscious is not bound by the laws of physics and logic. It can create dreamscapes that are impossible in reality, such as flying, teleporting, or talking to the dead.

The subconscious is not constrained by social norms. It can create dream scenarios that are taboo or forbidden, such as having sex with a celebrity or killing someone.

The subconscious is not influenced by our waking thoughts and desires. It can create dreams that are completely unrelated to our waking lives, such as dreaming about being a different person in a different time period.
Despite our fascination with dreaming, the limitations of conscious control mean that we may never be able to fully control our dreams.
The Limitations of Conscious Control
Although we often wish to manipulate our dreamscapes, our conscious mind has its limitations when it comes to shaping the content of our dreams. As much as we try to control our dreams, ultimately, it is the subconscious mind that takes over during sleep. This is because our conscious mind is at rest during sleep, and our subconscious mind is free to create dream scenarios based on our experiences and emotions.
To understand how our conscious mind has limitations in controlling our dreams, we can take a closer look at the table below. This table showcases the differences between our conscious and subconscious mind when it comes to dreaming. As we can see, our subconscious mind is responsible for the majority of dream creation, while our conscious mind only has a limited role in influencing dream content. Therefore, it is important to remember that although we may want to control our dreams, we should focus on understanding and working with our subconscious mind to achieve a more fulfilling dream experience.
Moving forward, it is important to recognize that dreaming has numerous benefits for our overall well-being. Through dreaming, we can process emotions, consolidate memories, and facilitate problem-solving. Therefore, instead of focusing solely on controlling our dreams, we should appreciate the power of our subconscious mind in creating meaningful dream experiences.
The Benefits of Dreaming
I find it fascinating that dreaming, something we can't consciously control, can have such positive effects on our lives.
Dreaming allows us to process our emotions and discover new things about ourselves. It also enhances our creativity and problem-solving abilities, as well as consolidates our memories and aids in our learning.
Overall, the benefits of dreaming are truly remarkable and worth exploring further.
Emotional Processing and Self-Discovery
Emotional processing during dreams is a crucial aspect of self-discovery. Our dreams allow us to explore our innermost emotions, fears, and desires without any judgment or consequence. When we dream, our mind is free to wander and explore the complexities of our psyche.
We can confront our past traumas, face our fears, and gain a deeper understanding of ourselves. Through emotional processing during dreams, we can also gain insights and perspectives that we may not have considered while awake. This can lead to creative solutions to problems or new ideas for projects.
In the next section, we'll explore how dreams can enhance our creativity and problem-solving skills.
Creativity and Problem-Solving
Exploring the creative potential of dreams, I've found that my subconscious mind can come up with innovative ideas and solutions to problems that I may not have considered consciously.
In my dreams, I'm not limited by the constraints of reality or societal norms, allowing me to think outside the box and approach issues from a different perspective.
Through lucid dreaming, I've been able to actively engage with my dreams and steer them towards specific problem-solving tasks.
By setting intentions before falling asleep, I can focus my subconscious on a particular problem or challenge, and often wake up with newfound clarity and ideas.
This creative aspect of dreaming is just one of the many ways in which dreams can benefit us in our waking lives, leading into the subsequent section about memory consolidation and learning.
Memory Consolidation and Learning
So, we've talked about how creativity and problem-solving can be enhanced through lucid dreaming, but what about memory consolidation and learning?
Well, studies have shown that during REM sleep (which is when most dreaming occurs), our brains are actively processing, organizing, and consolidating memories from the day. This means that lucid dreaming can potentially be a tool for improving memory retention and learning.
Here are four fascinating ways in which lucid dreaming could enhance memory and learning:
Practicing real-life skills in a safe environment
Revisiting and reinforcing important memories
Stimulating creativity and imagination to enhance memory retention
Experiencing and learning about new environments and situations through lucid dreams
As someone who's always looking for ways to improve my memory and learn new things, the potential benefits of lucid dreaming in this area are exciting to consider. However, there are also potential risks to be aware of when it comes to lucid dreaming and its effects on our mental health.
Let's dive into the potential risks of lucid dreaming.
The Potential Risks of Lucid Dreaming
You may not realize it, but there are some potential risks to lucid dreaming that you should be aware of. While it can be exhilarating to have control over your dreams, it can also be dangerous if not done properly.
One risk is that lucid dreaming can cause sleep disturbances and lead to insomnia. If you spend too much time in a lucid dream state, you may not be getting enough restful sleep, which can negatively impact your overall health and well-being.
Another risk is that lucid dreaming can blur the line between dreams and reality, causing confusion and even hallucinations. If you become too immersed in a lucid dream, you may start to believe that it is real, which can be dangerous if you are not able to distinguish between the two.
However, there are techniques for improving dream control that can help mitigate these risks and allow you to safely explore the world of lucid dreaming.
Techniques for Improving Dream Control
As someone who wants to improve their ability to control their dreams, I've found that there are several techniques that can be helpful.
First, keeping a dream journal is a great way to increase dream recall and become more aware of dream signs.
Second, reality testing involves questioning whether you're dreaming throughout the day, and can help you become more lucid in your dreams.
Finally, meditation and visualization can be used to relax the mind and prepare for lucid dreaming.
Keeping a Dream Journal
By jotting down our dreams in a journal, we can better understand our subconscious mind and unlock the power to control our own dreams. Keeping a dream journal is an effective technique for improving dream recall and enhancing lucid dreaming abilities.
Here are three ways to make the most out of your dream journal:
Keep it by your bed: Place your dream journal and pen on your nightstand or under your pillow to quickly jot down your dreams as soon as you wake up. This will help you capture more details and emotions from your dreams.

Be consistent: Write in your dream journal every morning, even if you don't remember your dream. This will help train your brain to remember your dreams and make it easier to recognize recurring themes or symbols.

Use descriptive language: Write down as many details as possible, including colors, sounds, and sensations. This will help you vividly remember your dream and analyze its meaning.
By incorporating dream journaling into our daily routine, we can better understand the workings of our subconscious and increase our chances of achieving lucid dreaming.
In the next section, we'll explore another technique for enhancing dream control: reality testing.
Reality Testing
I've been keeping a dream journal for a while now, and it's helped me remember more of my dreams. But I still can't control them. That's where reality testing comes in. It's a technique where you check if you're dreaming while you're awake, so you can do the same thing in your dreams.
For example, you can look at your hands and count your fingers. In a dream, your hands might look different or you might have more or less fingers. If that happens, you know you're dreaming and can start controlling the dream.
Reality testing takes practice, but it's worth it. It's like exercising a muscle – the more you do it, the stronger it gets. Eventually, it becomes a habit and you'll start doing it automatically in your dreams.
Plus, it's a good way to stay present and mindful during the day.
Now, let's talk about meditation and visualization…
Meditation and Visualization
Meditation and visualization can enhance dream recall and control. When I practice mindful meditation before bed, my dreams become more vivid and memorable. This is because meditation calms the mind and increases awareness, which can carry over into the dream state.
Here are four ways that meditation can enhance dream visualization:
It helps to reduce stress and anxiety, which can interfere with the ability to remember dreams.
It promotes relaxation, making it easier to fall asleep and enter the dream state.
It increases awareness and focus, making it easier to recognize when you're dreaming.
By setting intentions and visualizing positive dream scenarios during meditation, you can increase the likelihood of having lucid dreams.
As I explore different techniques for controlling my dreams, I'm also considering the role of sleep disorders. It's important to rule out any underlying medical conditions that may be affecting dream recall or hindering the ability to control dreams.
The Role of Sleep Disorders
You may not realize that sleep disorders can significantly impact your ability to control your dreams. For instance, people who suffer from sleep apnea, a condition where breathing repeatedly stops and starts during sleep, tend to have less vivid and memorable dreams. This is because their interrupted sleep patterns disrupt the REM (Rapid Eye Movement) phase of sleep, which is when most dreams occur.
Similarly, individuals with insomnia, a sleep disorder characterized by difficulty falling or staying asleep, may also have trouble controlling their dreams. Insomnia can cause a lack of deep sleep, which is essential for the brain to process emotions and memories. As a result, people with insomnia may experience less dream recall and have difficulty entering a lucid dream state.
Understanding the impact of sleep disorders on dream control is an important aspect of dream research and can lead to new insights and treatments for these conditions in the future.
The Future of Dream Research
I'm excited about the future of dream research, as there are many exciting developments on the horizon.
Advancements in brain imaging technology will allow us to gain a deeper understanding of the brain activity involved in dreaming.
Additionally, studying dreaming in different cultures will provide insight into how our experiences and beliefs shape our dreams.
Finally, the integration of dreamwork into therapy could prove to be a powerful tool for improving mental health.
Advancements in Brain Imaging Technology
With advancements in brain imaging technology, I can now see that the prefrontal cortex, responsible for decision-making and self-awareness, is less active during REM sleep when most dreaming occurs, according to a study by the University of Wisconsin-Madison. This explains why we often lack control of our dreams and why they can seem so vivid and unpredictable.
It's fascinating to think about the complexity of our brains and how they function during sleep. Here are three mind-blowing facts about the advancements in brain imaging technology:
We can now see which parts of the brain are active during different stages of sleep.

Researchers can measure brain activity in real-time while someone is dreaming.

This technology is helping us better understand the link between sleep and mental health.
It's incredible to think about how far we've come in our understanding of the brain and sleep. However, there's still so much to learn about the world of dreaming.
One fascinating area of study is how different cultures interpret and value dreams.
The Study of Dreaming in Different Cultures
Explore how different cultures interpret and value their dreams, and gain a deeper understanding of the significance of these nighttime experiences. In many cultures around the world, dreams are regarded as a powerful tool for gaining insight into one's own psyche and the world around them. For instance, among the Aboriginal peoples of Australia, dreams are believed to be a way of communicating with the spiritual world, while the ancient Greeks believed that dreams were messages from the gods. In contrast, some cultures, such as Western societies, have tended to view dreams as irrational and unimportant.
To further illustrate these differences, consider the following table:
| Culture | Interpretation of Dreams | Value of Dreams |
| --- | --- | --- |
| Aboriginal | Messages from the spiritual world | Highly valued |
| Ancient Greek | Messages from the gods | Highly valued |
| Western | Irrational and unimportant | Low value |
As we can see, the interpretation and value of dreams can vary greatly depending on the culture. By studying these differences, we can gain a better understanding of how different cultures view the significance of their dreams.
This understanding is particularly important when it comes to the integration of dreamwork into therapy. Without recognizing the cultural context of dreams, we risk overlooking or misinterpreting their meaning.
The Integration of Dreamwork into Therapy
I find the study of dreaming in different cultures fascinating. It's intriguing how each culture has its unique interpretation of dreams and how they use them to gain insight into their lives. In some cultures, dreams are seen as a way of communicating with the gods, while in others, they are viewed as a reflection of one's subconscious mind.
One way that dreams have been integrated into modern-day therapy is through dreamwork. Dreamwork is a therapeutic practice that involves exploring the symbolism and meaning behind a person's dreams. By analyzing their dreams, individuals can gain insight into their innermost thoughts and feelings, which can help them work through emotional issues.
With that said, it's important to recognize that dreaming and dreamwork are only a small piece of the puzzle when it comes to achieving good mental health.
While dreamwork can be a useful tool in therapy, it's also essential to prioritize good sleep hygiene to ensure that we are getting the rest we need to function at our best.
The Importance of Sleep Hygiene
Maintaining good sleep hygiene is crucial for improving the quality of our sleep and potentially enhancing our ability to control our dreams. Personally, I've noticed a significant difference in my ability to remember my dreams and even influence their content when I make a conscious effort to prioritize my sleep hygiene.
When I consistently go to bed and wake up at the same time each day, avoid screen time before bed, and create a relaxing bedtime routine, my mind and body are better prepared for a restful night's sleep.
Furthermore, research has shown that practicing good sleep hygiene can positively impact our overall mental and physical health. Lack of quality sleep has been linked to an increased risk of anxiety, depression, and other mood disorders, as well as a weakened immune system and higher risk of chronic diseases.
By prioritizing our sleep hygiene, we can not only potentially improve our ability to control our dreams but also enhance our overall well-being.
So, let's make a conscious effort to establish healthy sleep habits and reap the numerous benefits they offer.
Frequently Asked Questions
Can lucid dreaming be dangerous?
Oh, absolutely! Lucid dreaming is like playing God in your own subconscious playground. Who wouldn't want to risk losing touch with reality or experiencing terrifying hallucinations? It's a thrill ride, but not without its dangers.
Is it possible to learn how to control your dreams?
Yes, it is possible to learn how to control your dreams through techniques such as reality checks, dream journaling, and visualization. With practice, one can become proficient in lucid dreaming and manipulate their dream world.
Do dreams have any significance or meaning?
In my experience, dreams do have significance and meaning. They can reveal unconscious thoughts and emotions, offer insights into our past and present experiences, and even provide guidance for our future decisions.
Can dream control affect mental health?
Controlling dreams can improve mental health as it can reduce nightmares and increase positive dream experiences. However, it is not always possible because dreams are created by the subconscious mind, which is not under voluntary control.
How do drugs and alcohol affect dreaming?
Drugs and alcohol can mess with our dreams. They can make them hazy, intense, or even nonexistent. It's like trying to watch a movie with a blurry screen or missing scenes.
Conclusion
As I reflect on the topic of dream control, I'm reminded of a butterfly. A butterfly flutters and floats through the air, seemingly free and in control of its movements. But in reality, its every motion is dictated by the wind and the environment around it.
Similarly, our dreams may feel like a playground for our conscious minds, but they're ultimately shaped by our subconscious and the external factors in our lives.
While it may be frustrating to feel like we can't fully control our dreams, it's important to remember the benefits that come with dreaming. Our dreams allow us to process emotions, memories, and experiences in a unique way.
So let's embrace the mystery and unpredictability of our dream world, and appreciate the beauty in letting go of control. Like the butterfly, we can still enjoy the ride even if we're not the ones steering it.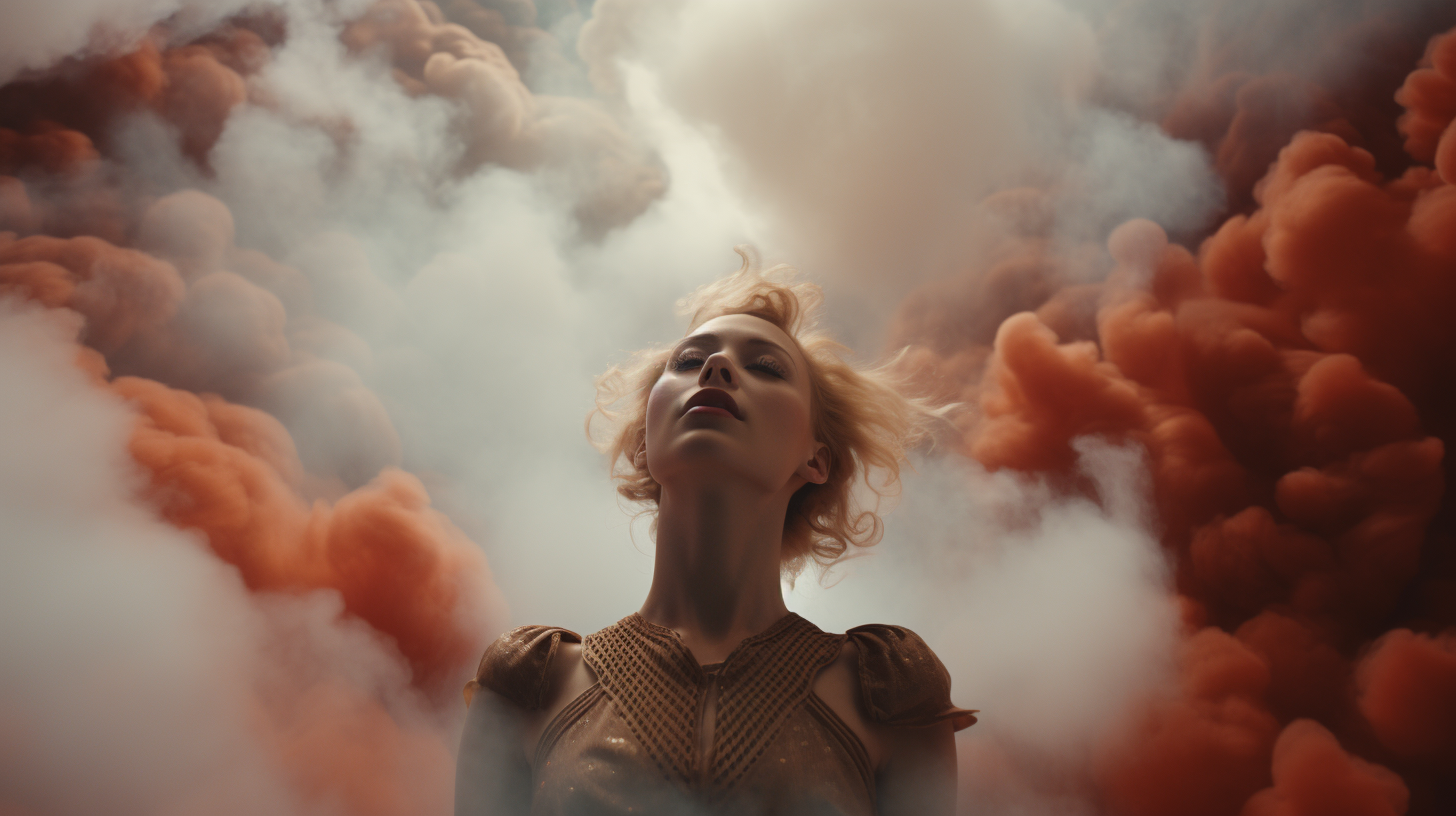 Eislyn is a gifted writer whose words weave enchanting narratives within the realm of dreams. With a profound love for storytelling and a deep curiosity about dreams, Eislyn's articles transport readers into vivid dreamscapes.
Her writing style is both eloquent and thought-provoking, captivating readers' imaginations and inspiring them to dive deeper into the mysteries of their own dreams. Eislyn's exploration of dream symbolism and interpretation adds depth and nuance to our content, making it an absolute pleasure for dream enthusiasts to engage with.