Have you ever had a dream that felt so real, you were convinced it actually happened? I certainly have. Sometimes I wake up feeling like I just lived through an entire day, only to realize it was just a dream.
But what are these types of dreams called, and why do they feel so vivid?
As I lay in bed at night, my mind often wanders to the world of dreams. I am fascinated by the way our brains create these alternate realities, where anything is possible. But some dreams feel more real than others. They have a different quality to them, as if I am truly experiencing the events that are unfolding.
I have always wondered what these dreams are called, and why they feel so lifelike. In this article, I will explore the phenomenon of vivid dreams, including their characteristics, causes, and potential benefits and risks.
Key Takeaways
Vivid dreams are dreams that feel real and involve multiple senses and emotions.
Lucid dreams are a type of vivid dream where the dreamer is aware they are dreaming and can control the dream's outcome.
Emotional intensity in vivid dreams can be positive or negative, and they can involve sensations such as touch and smell.
Increased brain activity during REM sleep is a cause of vivid dreams, and they can provide benefits such as insight into the subconscious mind, overcoming fears, and improving creativity, but they also come with potential risks such as confusion between dreams and reality.
Definition of Lucid Dreams
Get ready to control your dreams like never before with lucid dreams! A lucid dream is a dream in which you're aware that you're dreaming. In other words, you're conscious within your dream and can control the events that are happening.
This means that you can turn your dreams into an interactive experience where you can do anything and go anywhere that your imagination takes you. Lucid dreams are a powerful tool for personal growth and development. They can help you overcome fears, improve your creativity, and even enhance your problem-solving skills.
With the ability to control your dreams, you can face your fears head-on and work through them in a safe and controlled environment. So, if you want to take control of your dreams and unlock the full potential of your subconscious mind, then lucid dreaming is definitely something you should try.
Now, let's talk about the definition of vivid dreams.
Definition of Vivid Dreams
Though some may doubt their authenticity, vivid dreams are ones that are experienced with such clarity that they can be mistaken for reality. In such dreams, I often find myself in a familiar setting, engaging in routine activities that seem mundane but feel incredibly real.
For instance, I may dream of going to work, taking a walk or cooking dinner, and the sensory experience is so intense that I can feel the warmth of the sun on my skin, the texture of the food in my mouth, or the breeze blowing through my hair.
To further define vivid dreams, they have the following characteristics:
They involve multiple senses, including sight, sound, touch, smell, and taste.
They are often emotionally charged, evoking powerful feelings of joy, fear, or sadness.
They are usually very detailed and include specific locations, people, and objects.
They can be vividly recalled upon waking, and often leave a lasting impression.
With these characteristics in mind, it's clear that vivid dreams are a unique and fascinating phenomenon that can provide us with insight into our subconscious minds.
Characteristics of Vivid Dreams
I personally find vivid dreams to be fascinating because of their ability to feel incredibly real. The feeling of realism in these dreams can be so strong that it's easy to forget you're not actually experiencing them.
Additionally, emotions in vivid dreams can be incredibly intense, often leaving a lasting impact even after waking up.
Finally, the vivid sensations experienced in these dreams, such as taste, touch, and smell, can be incredibly detailed and realistic, adding to the overall immersive experience.
Feeling of Realism
You can't help but feel a rush of excitement when you wake up from a dream that felt so real. It's like you were transported to another world, and everything around you felt tangible and vivid. But what are these kinds of dreams called? According to psychologists, they are known as "lucid dreams."
Lucid dreams are dreams in which the dreamer is aware that they are dreaming. This means that the dreamer can actively participate in the dream and even control the narrative. In lucid dreams, the feeling of realism is heightened, making it difficult to distinguish between the dream world and reality. To give you a better idea, here's a table that compares the characteristics of vivid dreams and lucid dreams:
| Characteristics | Vivid Dreams | Lucid Dreams |
| --- | --- | --- |
| Awareness of dreaming | No | Yes |
| Control over dream | No | Yes |
| Feeling of realism | Yes | Yes |
| Memory retention | No | Yes |
| Emotional intensity | Yes | Yes |
As you can see, lucid dreams share many characteristics with vivid dreams, but with the added benefit of awareness and control. What's even more fascinating is that lucid dreams can have a higher emotional intensity, which we'll delve into in the next section.
Emotional Intensity
Imagine feeling intense emotions so real that they linger with you even after waking up. This is what emotional intensity in lucid dreams can bring.
When I have a dream that feels emotionally intense, it's like my brain has transported me to another world where everything is heightened. For example, if I dream about a loved one passing away, the grief and sadness I feel in the dream is just as intense as if it were happening in real life.
But it's not just negative emotions that feel intense in these types of dreams. Positive emotions can also be just as real. I've had dreams where I've experienced intense joy, love, and excitement that left me feeling euphoric even after waking up. It's almost as if my brain is giving me a taste of what it's like to feel these emotions at their fullest capacity.
This emotional intensity is just one aspect of what makes lucid dreams feel so real and unforgettable. Speaking of which, let's move on to the next topic of vivid sensations.
Vivid Sensations
Experiencing vivid sensations in lucid dreaming can be like a rollercoaster ride for your senses. It's like being transported to a different reality altogether.
The colors are more vibrant, the sounds are clearer, and the textures are more pronounced. I remember a dream where I was walking on a beach and I could feel the sand between my toes and the warmth of the sun on my skin. It was so real that when I woke up, I was surprised to find myself in my bed.
These vivid sensations can be caused by a variety of factors, such as medication, stress, or even certain foods. Understanding the causes of vivid dreams can help us better manage our sleep and waking lives.
Causes of Vivid Dreams
Have you ever woken up feeling like your dream was so real that it must have actually happened? That feeling of intense realism in dreams is often caused by factors such as increased brain activity during REM sleep or the presence of certain medications in the body.
During REM sleep, the brain's activity levels increase significantly, often leading to vivid and lifelike dreams. This increased activity is associated with the brain's processing and consolidation of memories, leading to the formation of vivid dream experiences.
Apart from the natural biological factors, certain medications can also cause vivid dreams. Drugs such as antidepressants, beta-blockers, and sleeping pills have been known to cause intense and vivid dreams. These medications alter the chemical balance in the brain, leading to an increase in dream activity.
The role of REM sleep in dream formation and the impact of medications on these dreams are fascinating areas of study that highlight the complexity of the human brain.
The Role of REM Sleep
You may be interested to know that the role of REM sleep in the formation and consolidation of memories is a complex and fascinating topic.
During the REM (Rapid Eye Movement) phase of sleep, our brains are highly active, and this is when we experience most of our dreaming. Researchers believe that REM sleep is crucial for consolidating memories, as it helps to transfer information from short-term to long-term memory.
Furthermore, studies have shown that our brains are particularly active in the hippocampus, a key region for memory consolidation, during REM sleep. This suggests that our dreams may play an important role in processing and storing new information.
So, the vivid dreams that we experience during REM sleep may actually be helping us to remember and make sense of our daily experiences.
As we delve deeper into the topic of dreams, it's important to note that not all vivid dreams are the same. In fact, there are many different types of vivid dreams, each with its own unique characteristics and meanings.
Let's explore some of these types in the next section.
Types of Vivid Dreams
Now, let's take a look at the different types of vivid dreams that can stir up a range of emotions in your mind, from excitement to fear.
One of the most common types of vivid dreams is the lucid dream, where you're aware that you're dreaming and can control the dream's outcome. This type of dream is often associated with being able to confront and overcome fears and anxieties.
Another type of vivid dream is the nightmare, which can leave you feeling scared and anxious. Nightmares often involve themes of danger, death, or loss and can occur during REM sleep. These dreams can be caused by stress, anxiety, or traumatic experiences and can have a lasting impact on your mood and emotions.
Transitioning into the subsequent section about techniques for inducing vivid dreams, there are several methods that can help you control and enhance your dream experiences.
Techniques for Inducing Vivid Dreams
I've always been intrigued by the types of vivid dreams that people experience. From lucid dreams where you can control the dream's content, to recurring dreams that occur over and over again, there's so much variety in the dream world. But one type of dream that has always fascinated me the most are the ones that feel so real that you wake up wondering if they actually happened.
These dreams are called 'lucid dreams,' and they're a type of dream where you're fully aware that you're dreaming. They're often accompanied by vivid imagery, intense emotions, and a sense of control over the dream's content. Lucid dreams can be induced using a variety of techniques, and in the next section, I'll be exploring some of the most effective ones.
| Technique | Description | Effectiveness |
| --- | --- | --- |
| Reality Test | Consistently questioning whether you're awake | High |
| MILD | Mnemonic Induced Lucid Dreaming | Moderate |
| WILD | Wake Induced Lucid Dreaming | Low |
| FILD | Finger Induced Lucid Dreaming | Moderate |
As you can see, there are different techniques that can be used to induce lucid dreams, each with varying levels of effectiveness. But why would anyone want to induce a lucid dream in the first place? That's what we'll be exploring in the next section, where we'll be discussing the benefits of vivid dreams.
Benefits of Vivid Dreams
Imagine experiencing intense emotions and gaining valuable insights into your inner self, all while you sleep. Vivid dreams have the potential to offer you these benefits and more.
Studies have shown that vivid dreams can help improve memory consolidation, emotional regulation, and problem-solving skills. They can also provide a safe space to explore and confront fears, anxieties, and unresolved issues.
Moreover, vivid dreams can be a source of inspiration and creativity. Many artists, writers, and musicians have reported drawing inspiration from their dreams. They can also be a source of entertainment and adventure, allowing you to experience things that may not be possible in waking life.
However, it's important to note that not all vivid dreams are positive, and some may be unsettling or even traumatic. In the following section, we'll explore the risks associated with vivid dreams.
Risks Associated with Vivid Dreams
I must admit, the benefits of vivid dreams I've written about earlier are compelling. However, it's important to note that there are also risks associated with these types of dreams.
When dreams feel real, they can be incredibly intense and impactful, which can be both good and bad.
On the positive side, vivid dreams can help us process emotions and gain insights into our subconscious minds.
But on the negative side, they can also lead to confusion and distress. For example, nightmares that feel real can cause anxiety and even trauma.
Additionally, if we become too attached to our dreams and start confusing them with reality, it can lead to problems in our waking lives.
So, while vivid dreams are fascinating, we should also approach them with caution and awareness.
Frequently Asked Questions
What is the difference between lucid dreams and vivid dreams?
Lucid dreams are like being the director of a movie, where I control every aspect of the dream. Vivid dreams are like watching a movie, where I'm fully immersed in the story but have no control.
Can vivid dreams be a symptom of a mental health disorder?
Yes, vivid dreams can be a symptom of mental health disorders such as anxiety, depression, and PTSD. These dreams are intense and realistic, often causing distress and disrupting sleep patterns. Seeking professional help may be beneficial.
Is it possible to have vivid dreams every night?
Every night, my mind takes me on a vivid journey through dreams. The details are so real, I wake up feeling like I've lived another life. It's a rollercoaster of emotions, but I love the thrill.
Can external factors, such as stress or medication, affect the frequency or intensity of vivid dreams?
External factors, like stress and medication, can definitely affect the frequency and intensity of vivid dreams. Personally, I've noticed that when I'm under a lot of stress, my dreams become more intense and memorable.
Are there any cultural or historical beliefs about the meaning or significance of vivid dreams?
I find it fascinating to learn about cultural and historical beliefs surrounding vivid dreams. Some cultures see them as messages from ancestors or spirits, while others view them as warnings or prophetic visions.
Conclusion
Well, that was quite a journey exploring the world of vivid dreams. I've learned that these dreams are characterized by their intense sensory experiences, and they can be induced through various techniques like keeping a dream journal or practicing meditation.
But did you know that, according to a recent study, up to 50% of people experience vivid dreams at least once a week? That's right, half of us are regularly transported to other worlds while we sleep.
Whether you find this fact exciting or a little unsettling, it's clear that vivid dreams are a fascinating and complex phenomenon. While there are some potential risks associated with these dreams, they also offer a wealth of benefits, from increased creativity to improved problem-solving skills.
So next time you have a vivid dream, take a moment to reflect on the experience and see what insights it might offer. Sweet dreams!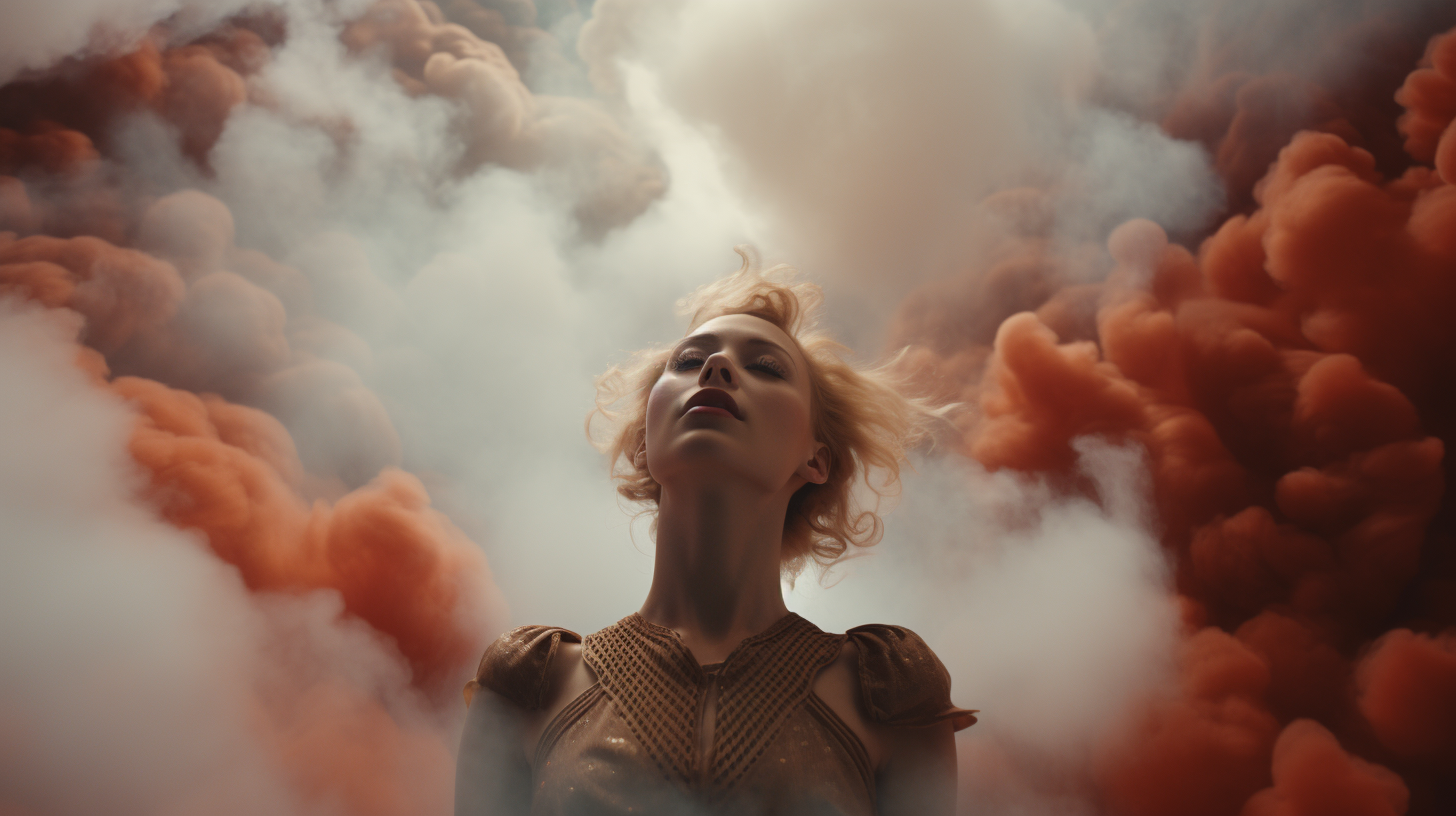 Eislyn is a gifted writer whose words weave enchanting narratives within the realm of dreams. With a profound love for storytelling and a deep curiosity about dreams, Eislyn's articles transport readers into vivid dreamscapes.
Her writing style is both eloquent and thought-provoking, captivating readers' imaginations and inspiring them to dive deeper into the mysteries of their own dreams. Eislyn's exploration of dream symbolism and interpretation adds depth and nuance to our content, making it an absolute pleasure for dream enthusiasts to engage with.